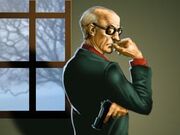 This is the third job tier, in which you will unlock at level 9. This job tier has seven jobs, and upon reaching the rank of Master Soldier, you will be awarded a Golden Skull. This job tier has a boss fight against Luis Castana
Jobs
Loot
This job tier is, so far, the one with the most collections. In this job tier you will have a chance to loot items from the Sculptures Collection, the Poker Chips Collection, the Club Flush Collection, and the Boxing Collection. Plus, doing jobs in this tier can give you the chance to loot items such as C4, a Stab-Proof Vest, an Automatic Rifle, a Semi-Automatic Shotgun, a Lucky Shamrock Medallion, and a Firebomb.
Ad blocker interference detected!
Wikia is a free-to-use site that makes money from advertising. We have a modified experience for viewers using ad blockers

Wikia is not accessible if you've made further modifications. Remove the custom ad blocker rule(s) and the page will load as expected.